What Makes a Q Certified Vehicle Unique?
Reconditioning Process
Q Certified vehicles must meet or exceed exacting inspection/reconditioning standards in order to be called a Q Certified vehicle. 
Q Certified vehicles receive a comprehensive vehicle inspection that scrutinizes all major vehicle systems including engine, transmission, drivetrain, brakes, steering, suspension, heating and cooling systems, tires and exhaust system. Q Certified vehicle owners will receive a completed Pre-Owned Vehicle Inspection Report. 
Q Certified dealerships have Used Vehicle Technicians, who have completed Q Certified training on exacting standards, perform a comprehensive inspection/reconditioning process. 
Quality Control Evaluation
Q Certified dealerships are randomly evaluated by an independent third party to ensure compliance with the strict Q Certified standards.
Peace of Mind
Q Certified Vehicles go through a comprehensive vehicle history evaluation to assure that your Q Certified vehicle does not contain a Department of Motor Vehicle (DMV) reported incidents such as salvage, fire, flood damage, odometer problems or lemon history. 

Q Certified vehicles receive a "clean" vehicle title report.
Limited Warranty
Q Certified vehicle owners will receive a Q Certified limited warranty which provides complete coverage details including: what's covered, what's not covered, coverage period, maintenance requirements and instructions should a breakdown occur. 
Value Added Benefits
Q Certified vehicle owners will receive a membership to Road America's AutoAssist program. Benefits include roadside assistance, emergency travel expense reimbursement and tire hazard protection.
Extendible Protection
Q Certified vehicles qualify for an optional vehicle service contract. For even greater peace of mind, you migth want to consider purchasing this optional coverage. It picks up where the limited warranty leaves off, with such valuable benefits as:
             -    Higher level of coverage and/or extended coverage
-    Emergency Roadside Assistance for the term of the vehicle service contract
-    Rental reimbursement for the term of the vehicle service contract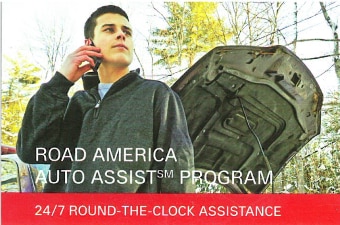 Roadside Assistance Benefits:
Pays you up to $50 per occurrence for covered roadside assistance.
Towing Service - When necessary, the member's disabled vehicle will be towed to the closet Q Certified authorized repair facility.
Flat Tire Assistance - Service consists of the removal of the flat tire and its replacement with the member's spare tire.
Battery Service - If a battery failure occurs, a jump-start will be applied to start the member's vehicle.
Lock-Out Assistance - If a member's keys are locked inside of their vehicle, assistance will be provided in gaining entry into the member's vehicle.
Gas, Oil, Fluid & Water Delivery Service - An emergency supply of gasoline, oil, fluid and water will be delivered to any member in immediate need.
Emergency Travel Expense Reimbursement Benefit - If a member's vehicle is disabled due to a covered mechanical failure more than 100 miles from home, the member will be reimbursed up to $1,000 for emergency commercial lodging, meals and transportation expenses. (Not available in California and New York)
Tire Hazard Protection Benefit - We will pay the cost to repair up to $50 or, if non-repairable, the cost to replace a damaged tire (up to $250 per tire) if the damage is caused by a road hazard (debris on the road surface or surface condition such as potholes, cracks and breaks). During the one-year coverage period, should the tire wear reach 3/32", the Tire Hazard Protection will be void. (Not available in California, Florida, Maryland, New York, Tennessee and Washington)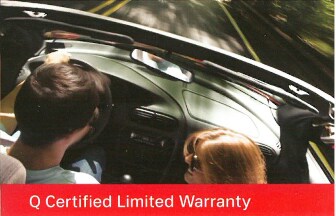 Nationwide Protection
Coverage is effective anywhere in the continental Untied States of America, Alaska, Hawaii and Canada.
Deductible
A deductible per visit will apply.
Rental Reimbursement
If your vehicle is kept in a repair facility overnight for covered repairs, rental coverage is provided.
Customer Responsibilities
Maintenance Requirements
Your vehicle must be serviced receiving all scheduled maintenance as recommended by the manufacturer's Owners Manual.
Maintenance Record Retention
You must retain copies of all completed repair orders showing the maintenance services performed during the coverage period.
Repair Requirements
You must return to your Q Certified Authorized Dealership or their affiliate for covered repairs. If traveling away from home, contact the Q Certified Administrator for directions to the nearest Q Certified authorized repair facility.
** Ask the dealerships sales associate to review the Q Certified Limited Warranty.